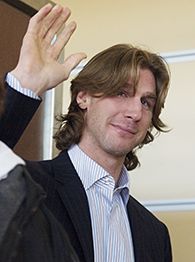 It's been a tough couple of days, almost to the point where this trade doesn't faze me. It does. I just don't think it really hit me until a second ago. Ryan Smyth was one of the reasons that the Oilers drew me in. He's my favorite player, not just on the Oilers but out of all my teams. For me, one of the worst parts about this trade is that he was partly to blame. With the situation between him and the Oilers the way it was, there wasn't much else to do. I don't know. I hate it. Actually I'm pretty upset now. I just feel bad for people on the team, like a Shawn Horcoff or something, who are going to miss him. I guess this stuff happens a lot but I still feel bad. I'm trying to stay rational. The last trade I blindly hated was Nomar.
The Bruins traded Brad Boyes for Dennis Wideman, and Paul Mara for Aaron Ward. I like the second trade and don't know enough about Wideman to tell on the first one. With two losses in a row they needed something. I was at the game last night with Liz and Paula. We moved down to seats directly next to the Bruins' bench, three rows from the glass. When they fell apart in the third period, Andrew Ference had a look on his face that I'm all too familiar with. He looked like he wanted to single-handedly carry his team to a win and that, if he had anything to say about it, there was no way they were going to lose. He's just one player, though, and no matter what he did they still lost. I appreciated the effort and he's on his way to making me like that trade. At least he's trying.
The Avs traded Brad May for a goaltending prospect. I'm pretty sure May is useless so this is fine. The Real Marek Svatos has been around for a few games now and, in the one redeemable event in the past few days, is developing some chemistry with Tyler Arnason. I'm still legitimately terrified that because I've talked about him he's going to get hurt. You can call it paranoia, but I see the Bruins sucking, Smid getting hurt, and Smytty being sent away as evidence that I really am a death curse.
That English teacher, Skinder, has spent the first couple days of this week trying to make me miserable for no reason. He's an ass to everyone, but he's been targeting me so much lately that even other teachers are wondering what the hell he's doing. At first I didn't know what to do, because I've never had someone treat me like this before, but now I know that I just have to deal. I only have to deal with him for a few more months, then I'm free to get the hell out of that school. He's stuck here. Like it tends to do, hockey reflects life. The Bruins have a shot at making the playoffs, but it's not anywhere near guaranteed. The Avs only have a very dim chance, if any, and the Oilers are officially rebuilding. This isn't a great time, but it's not going to be like this forever. Things are going to pick up for all of my teams- maybe not this year, but at some point. To enjoy those times I have to suck it up and get through these. We're all going to miss Smytty, but just remember that someday things will be better.